TESTEUR D'ISOLATION ELECTRIQUE - ELECTRICAL ISOLATION TESTER


Cet appareil permet de mesurer la tenue en tension jusqu'à la tension de claquage (

destructif

) des isolants utilisés dans nos projets.
La tension en sortie atteint 4 kVdc stockée dans un condensateur équivalent de 1 µF. En court circuit, le courant est limité à 4 mA.

ATTENTION: Manipuler avec précaution – Eviter tout choc électrique !

Le

circuit

est un multiplicateur par 10 appelé ''Villard Cascade''.
Il est alimenté par une tension alternative à 50 Hz issue d'un transformateur d'isolation de 30 VA lui-même piloté par un

auto-transformateur

(Variac).
L'ampoule de 230V/7W limite le courant au secondaire en cas de court-circuit en sortie.
La tension de sortie peut être directement monitorée à la sortie 1/1000.
Un courant de fuite est signalé par la Led rouge.
Il est possible de monitorer le courant de fuite en plaçant un multimètre sur la gamme 20 mAdc ou mieux 2 mAdc dans le circuit négatif de mesure.
Consommation maximale en entrée avec sortie en court circuit : 18 VA

- o - o - o - o - o - o - o - o - o - o - o - o - o - o -

This isolation tester measures the withstanding and the (

destructive

) breakdown voltage of the insulating material used in our projects.
The output voltage reaches 4 kV loaded in an equivalent 1 µF capacitor.

CAUTION: Handle with care – Avoid any electrical shock !

The
circuit
is a multiplier by 10, named ''Villard Cascade''
It is fed by a 50 Hz alternative voltage supplied by a 30 VA isolating transformer which is driven by a
Variac
.
The 230V/7W lamp limits the short circuit output current.
The output voltage can be monitored with a 1/1000 ratio.
A leakage current is detected when the red Led lights.
It is possible to monitor the output current by placing a multimeter on the 20 or better 2 mA range in the

negative

circuit.
Maximum input power with short-circuited output: 18 VA.


- End of text -

Besoin d'un complément d'information ? -  You wish more information ?

Envoyez un courriel à l'adresse - Send a mail to:
This email address is being protected from spambots. You need JavaScript enabled to view it.
Circuit imprimé - Echelle 1:1

Printed circuit board - Scale 1:1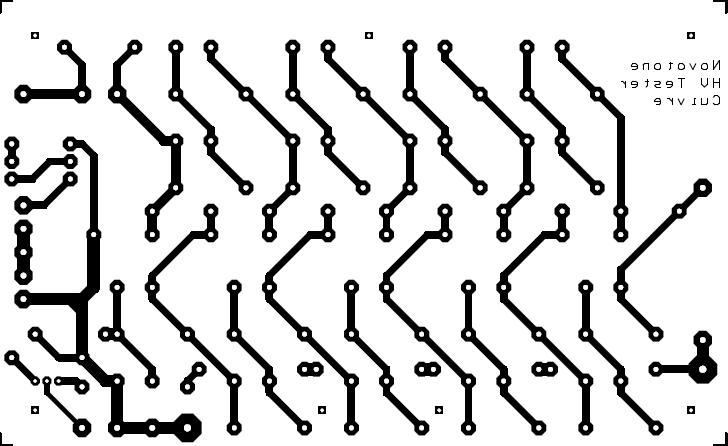 Implantation des composants
Component location
Figure 2